Residential, Commercial, and Multi-family Construction Services
Exterior
Concrete (Sidewalk repairs, Driveway repair, Foundation, etc.)
For sidewalk repair, driveway repair, steps repair, pool deck repair, inside flooring, leaning chimneys, patios, bowed walls and more, we can help. If you have cracked, uneven or unlevel concrete, chances are you'd like to have it repaired as quickly as possible. Because not only are cracked sidewalks, driveways, steps or decks uneven, they pose a safety risk to family and visiting friends. Of course, at the same time, what you don't want is to spend an arm and a leg on the cost of replacement.
Contact TIE Construction for a free quote on getting your concrete repaired.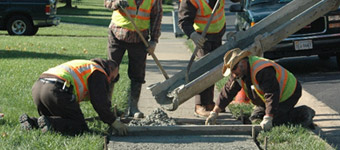 Masonry (Repairs / replacement/ inspections (any type)
If your project is going to be with brick or stone, you can feel comfortable knowing that TIE Construction only employs the most skilled people in the trade. There are many choices in the design of a masonry project. If your project calls for a used BRICK veneer, we can build it! If you want a custom patio that will have a special pattern, we can build it! If you want that "one of a kind" BRICK or STONE FIREPLACE, we can build it! If your masonry of choice is the concrete pavers for your driveway , we can build it! There are unlimited projects that can be built with masonry and we can build them all!
Window/doors replacement (Repairs / replacement/ inspections (any type)
New windows and doors not only make a home more attractive and comfortable, but they also save homeowners money on heating bills, cooling bills, and maintenance expense. Window and door replacement contractors, like any company working at the home, should carry both workers' compensation and liability insurance, and have plenty of experience. Fill out our Request a Quote form for a free quote and consultation on getting your windows or doors replaced or repaired.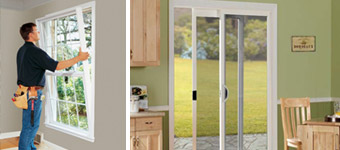 Siding (Repairs / replacement/ inspections (any type)
Replacing the siding on your home is a great way to make an older home look like new. Siding replacement can easily turn a non-renovated house or apartment complex into a brand new looking home or building! Siding replacement is a cheap alternative to completely remodeling or new construction. Knowing that siding replacement can make your house look like new is easy, finding the right company to replace your siding is the hard part. We have been doing siding repair and replacement for years and our contractors have plenty of experience to get the job done right and on time.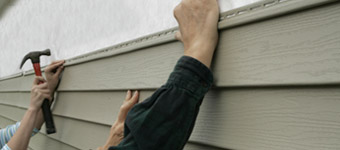 Fence/decking (Repairs / replacement/ inspections (any type)
Whether its long-lasting wood fences, low maintenance vinyl fences, ornamental aluminum fences or steel fences, we can build it. We have been building all types of fences in Tennessee since 1996.
Add value and outdoor living space to your home with a cedar deck, a vinyl deck, or an exotic hardwood or composite deck built by TIE Construction. Then choose from cedar, vinyl, composite, glass or aluminum railings and balusters to accent your deck. Our decks and patios are custom built to the highest standards, and we have our own innovative deck refurbishing system, so you don't have to replace your entire deck. Our skilled installation crews are each professionally trained in the industry to ensure that every job is built to the highest standard of quality. Our mission is to provide you the very best in customer service and quality workmanship, so find out what we have to offer you and get your free estimate today.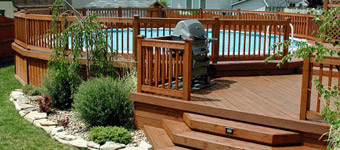 Retaining walls (rail road tie retaining walls/ keystone/blocks)
Retaining walls have long been a fundamental element in commercial and residential construction. And there's no wonder why. A landscape retaining wall can transform a generic backyard into an elegant courtyard. A structural retaining wall adds strength and appeal to any commercial design.
TIE Construction offers retaining wall construction and paver installation for the developer and the homeowner – and does it by providing dependable service at affordable prices with beautiful results. Request a Quote today!
Exterior paint – deck stains and Pressure Washing
From designer house painting to detailed deck refinishing care, we are here to serve you. We offer professional interior and exterior painting for homes and commercial buildings throughout the Tennessee area. We can construct, rebuild, and restored wood items such as gazebos, fences, trellis, retaining walls, arbors, and walkways. Request a Quote today for exterior pain, deck staining, or pressure washing.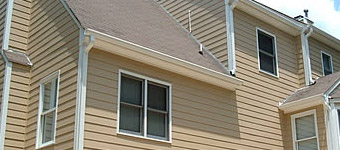 Gutters and Downspouts (Replacement and Repairs/Cleaning/ inspections (any type)
Gutters keep the water that falls on your roof from collecting near your foundation. If your gutters are leaking, it is usually a sign that seams have come loose or that a section of a gutter has become corroded. Leaky Tennessee gutters and downspouts can be patched or repaired.
We full service gutter and downspout installation, and we aim to be the best in the business. We offer gutter installation and replacement services as well as gutter cleaning and protection services. We will come to your home and inspect your gutters and give you a free recommendation for repair or replacement. Request a Quote today!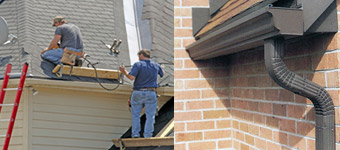 Roofing (Any type of roofing replacement and repairs- specializing on insurance claims)
We have been installing in and repairing roofs in the Tennessee area for over 15 years. For every single customer, we strive for high-quality roofing materials, a wide selection of roofing options, prompt and reliable service, convenient scheduling, and the most efficient turnaround possible. We also specialize in insurance claims. Let us come to your home or business and give you a free estimate for roof repair or installation. Request a Quote today!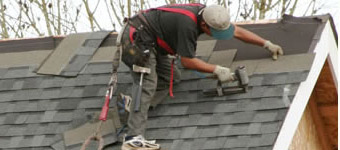 Electrical (Exterior/Interior and emergency services)
Our electical services include, but are not limited to:
Airconditioner Circuits
Aluminum Wiring Repair
Amp Upgrades
Arc Fault Breakers
Breaker Box Replacements
Breakers
Carbon Monoxide Detectors
Electric Box
Electrical Circuits
Electrical Outlets
Electrical Troubleshooting
Exhaust Fans
Fuse Box Replacements
Fuses
GFCI Outlets
Heat Circuits
Home electrical wiring
Hot Tub Wiring
Meter Bases
Meter Box
New Circuits
New Wiring for Appliances
Panels
Power to New Items
Recessed Can Lighting
Room Additions
Security Lighting
Recessed Can Lighting
Service Upgrades
Smoke Detectors
Surge Protectors
Swimming Pool Wiring
Track Lighting
Landscape Lighting
Licensed Electrician
Light Fixture Installation